Why the Rebuild Route Makes Sense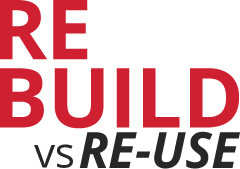 Typically, in the short term, the rebuild will cost more, but over time, will cost less, provide better ROI and create potentially happier and more efficient employees.
We have created a handy ROI calculator that we use when discussing the true value of saving time and having more efficient workers. This calculator and the logic with it can be downloaded here: Software ROI Calculator.
Rebuild vs Reuse: Things to Think About
With any rebuild of a legacy solution the following areas must be addressed:
Mobility: Employees need to access data from different handheld devices. Be it iPhone, Android or Blackberry. Today technology exists to make a solution device agnostic.
Web (Remote) Access: Using a browser to access the data provides the most cost-efficient way for users to access data; whether it is internal users or external users. Mobile users can access the web browser to use, interact or access the new system.
Future-Proof Workflow: By rebuilding a solution, potential technology traps can be avoided. Ideally, any system built should scope out and last for 6 to 8 years before workflow modifications are required.
Collaboration of Data: Gone are the days of a static web page. Companies, big and small, want some form of customer integration with their web page. Rebuilding a solution using a custom web technology will allow a web page to bolt on and be used by both employees, customers and prospects.
Whenever I visit a potential new customers site, I am always surprised by the age of some legacy systems. Moreover, I am surprised at how a great return on investment from the past has now turned into a system/process that is inefficient and a detrimental for employees.
If your existing system was built more than 15 years ago, and is still working and being used – congratulations! You have certainly received a great ROI from past investments. But now might be the time to think about a rebuild of your solution. Rebuild before access, inefficiencies or age of hardware severely hurt your business' growth.
Every business is unique and so is the software they need. Get your free Personal Needs Analysis today.