If you're like me, shopping for gifts is a headache – whether it's a full season of Christmas shopping or simply shopping for birthday gifts, the art of finding the right gift at the best price has never been my forte. Then there's the budgetary situation - without a doubt, I always manage to overspend on presents heading into the holidays. It's not that I don't set out a budget at the beginning, rather it has more to do with the fact that when I'm frantically running through a shopping mall the day before Christmas, I'm not really keeping tabs on finances - I'm just taking my crumpled up piece of paper and crossing a name off my list - a fairly rudimentary approach to shopping this day and age, I admit.
Recently, I was asked to review the promotional text for an upcoming Android app we've just wrapped up developing, called Gifts., which seems to be the solution to all my holiday shopping woes. With Gifts. there's no more overspending, missed gifts, duplicate gifts and you always find the product you're looking for at the best price. Gifts. also keeps the entire family in the gift-giving loop.
Here are the top 5 reasons why you need Gifts. this holiday season: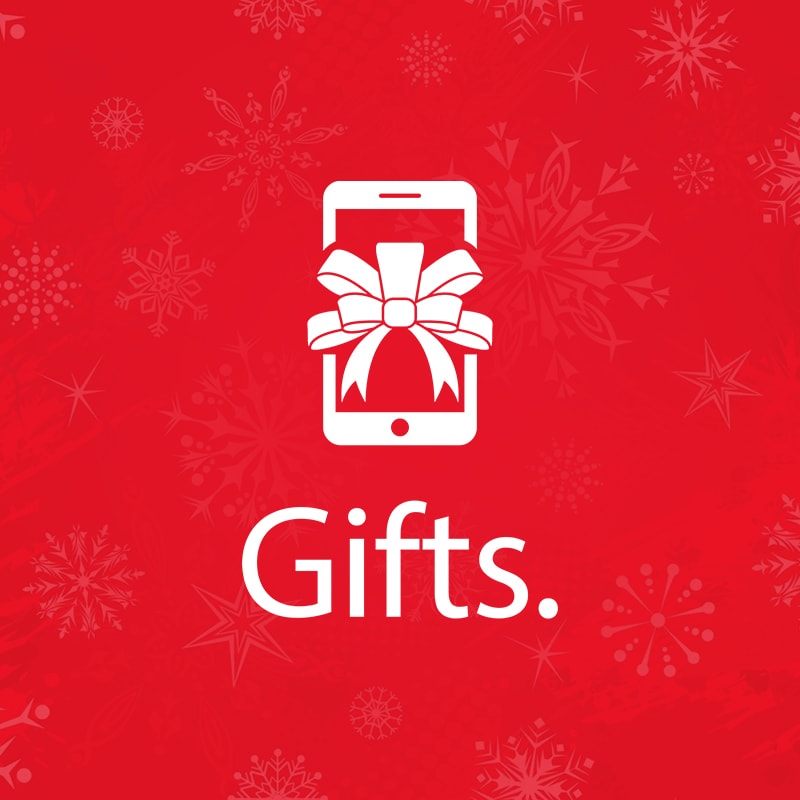 You'll Know How Much Money You've Spent & How Much is Remaining

 
With budgetary information in the palm of your hand, it's easy to keep track of how much money you've spent and
how much is remaining. Gifts. tracks your financial
allocations for holiday gifts and lets you know if you've exceeded your specified budget. And it's not only total budget that's monitored by Gifts.
You Have Instant Access to Gift Ideas, Holiday Budget Information & Holiday Purchases in One Centralized Location

 
Toss out that list and stop accessing your online banking to attempt to decipher how much cash you've expended over the shopping season. Gifts. provides a centralized hub for all your holiday needs – when you've indicated a purchase is made, it's crossed off your list and removed from that individual's budget and your total holiday budget. In addition, Gifts. offers a visual color representation of your holiday budgetary situation. So if the green light is on, you're good to keep spending! Best of all, Gifts. integrates with barcode scanners, so with this nifty little app, you simply scan a product barcode to add a gift idea to a desired individual's list and you're on your way.
You'll Know the Status of Each Item – Wrapped, Bought & To Buy

 
Have you ever lost track of holiday gift purchases and forgot to buy someone a gift? Did you buy someone the same gift twice? With Gifts., you're always aware of what you've purchased, who it's for, how much you've spent versus how much is remaining, along with what you've already wrapped and what's left to buy. It's pretty easy to lose track of purchases during the hectic atmosphere of the holiday season, so if you're looking to keep gifts and finances organized in one place wherever you go, then CoreSolutions' Gifts. mobile application is the solution for you!
You'll Keep the Entire Family Up to Date on Holiday Gift Purchases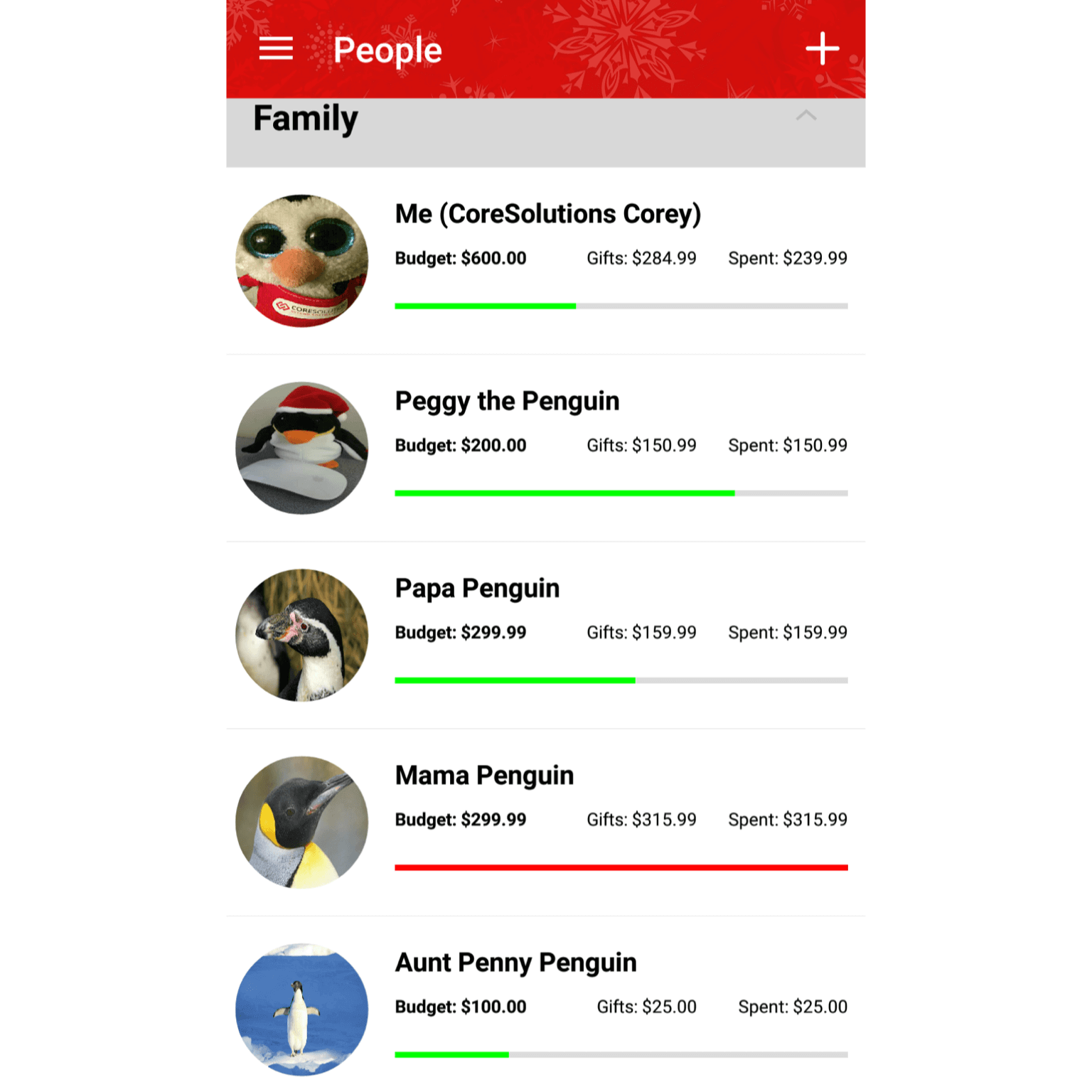 Gifts. makes it a cinch to share lists with family members to ensure that you don't purchase the same item for the same person. Directly share and receive wish lists with the entire family, and keep everyone up to date on all gift ideas and gift purchases. You can even add a passcode to lists, to keep them list a secret from everyone or to only grant access to a select group of individuals. How you decide to share and manage your lists with Gifts. is up to you.
It's a Free Android Application

 
Why pay for an application to monitor your holiday purchases and spending, when you can get it all for free with Gifts.? It's a no-brainer – with your free copy of Gifts., you'll stay organized throughout the holiday season without having to purchase an app to keep you in check.
Use Gifts. for Birthdays As Well
Gifts. isn't just for one-time holidays, like Christmas or Easter – you can use Gifts. to keep track of birthday gift purchases, setting up an annual budget for gifts, along with allotments for each individual's birthday. If you stumble upon the perfect gift idea months before someone's birthday, don't fret - just save the gift idea under that person's name in Gifts. And if you don't already have their information in Gifts., you can effortlessly add contacts from your phone to the app with a few quick taps on your screen. After December, Gifts. will be re-skinned for birthdays and forthcoming holidays.
Gifts. Makes Shopping & Saving Easy
Shopping for gifts and saving money has never been easier! Gifts. takes the hassle out of the holidays.
Make holiday shopping a breeze and download your FREE copy of Gifts.
To learn more about the Gifts. application for Android, click here.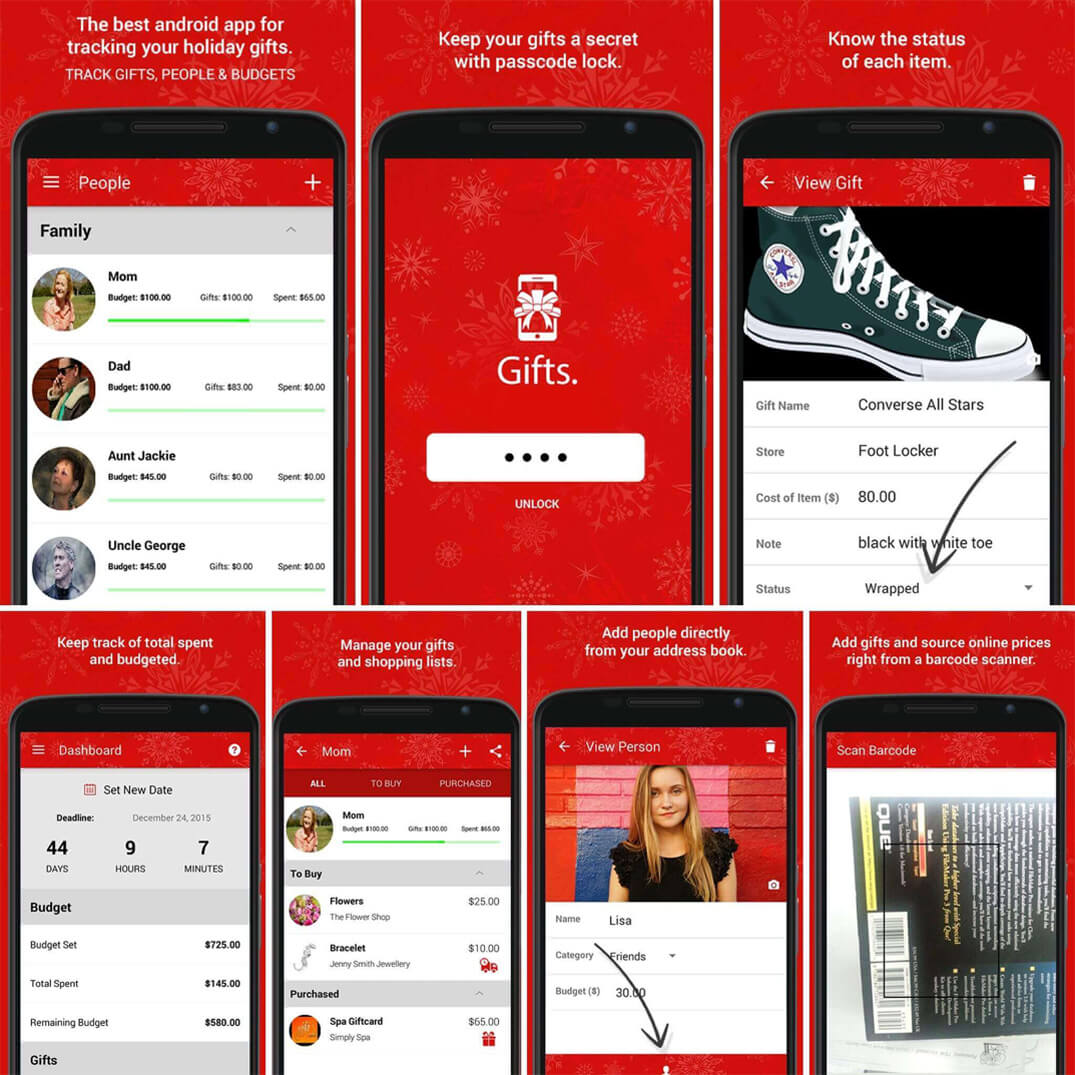 If you enjoy our Business Blogs, be sure to subscribe to our Core Business Newsletter!
And as always, thanks for reading!
Christopher Lawn