The FileMaker family just got a bit bigger.
As of 9:00 am this morning, the new versions of almost all products in the FileMaker software suite became available. There are many great new features included within the new releases, and a lot of buzz being generated already too.
Today, I'd like to bring one of the new features of FileMaker Pro 13 to your attention. Many would say that it's one of the smaller new features that have been added, but I have my reason for bringing this one to your attention. The new feature that I'd like to make you aware of is the option to "Upload to FileMaker Server". This new feature allows you to upload one (or more) of your databases to your FileMaker Server without leaving FileMaker Pro.
It's a very handy feature for sure. In the past, if you wanted to get your files onto a FileMaker Server, there were 2 main ways of doing so. One involved getting access to the server machine itself, and copying the database files you wanted to upload into a specific folder that FM Server was set to scan. The other involved opening up the FileMaker Server Admin Console, and using its upload wizard. This new feature works much like the upload wizard that was in FileMaker Server's Admin Console in the past, however makes it much more accessible now.
The reason I'm bringing this feature to the forefront is because it perfectly illustrates how polished FileMaker features have become. Had the software engineers at FileMaker Inc. left it at just that — a simple upload wizard, it would have been a great new addition, but there's more to that feature that happens under the hood as well. Every time you choose to upload a file from FM Pro to FM Server using this new feature, a flag will be set within the FM database itself indicating that the upload has occurred. This allows for several checks and balances to happen. Here's a good example of this:
Let's say it's a Friday… end of day, and you use the new "Upload to FileMaker Server" feature to upload your latest/greatest database to your FileMaker Server. Monday rolls around, and with all that's been going on, you forget that you had uploaded that file to your server. You then proceed to try and open up your local version of the database, but get prompted with a dialog box much like this: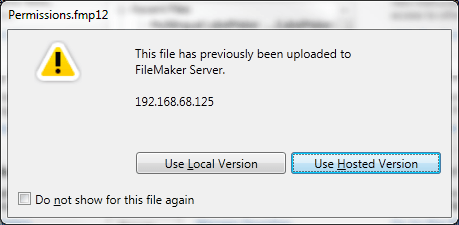 This serves as a great reminder for you that your latest copy of the file is actually up on your server, and it presents you with the option to open the server hosted version instead.