Modernizing today's business systems by switching to web-based applications yields a wide range of business advantages over traditional desktop applications.
What is a Web-based Application?
In computing, a web application or web app is a client server application in which the client (or user interface) runs in a web browser. Users access the application from any computer connected to the internet or an intranet using a standard browser, instead of using an application that has been installed on the user's computer. On a basic website, pages are static. Web-based applications interact with users, by responding to users.
Some examples of common web-based applications are web based email programs, like Gmail or Hotmail. Here, users receive the full benefits of a robust email client, without having to install any software on their computer.
Users can also fully interact with web-based banking systems, without having to install local client software.
The popular website EBay is another great example of a web-based application. With Ebay, users can search and scan for popular items, add them to a shopping cart, and then proceed to purchase those items. The entire transaction takes place all from the ease of using their own web browser, which comes pre-installed on most of today's popular operating systems.
Almost any desktop software can be developed as a web-based application.
What is Responsive Web Design?
Responsive web design is an approach to web design aimed at crafting sites to provide an optimal viewing experience—easy reading and navigation with a minimum of resizing, panning, and scrolling—across a wide range of devices (desktop computer monitors, tablets, mobile phones).
Google states that responsive web design is its recommended mobile configuration, and even goes so far as to refer to responsive web design as the industry best practice. And when Google speaks, search marketers listen – after all, with 67 % of the global search market share, who would want to ignore them?
Simply put, responsive design provides one application which can be run on any device that has a web browser installed. This is because responsive design sites have one URL and the same HTML, regardless of the device, which makes it easier and more efficient for Google to crawl, index, and organize content. Contrast this with a separate mobile site, which has a different URL and different HTML than its desktop counterpart, requiring Google to crawl and index multiple versions of the same site.
Additionally, Google prefers responsive web design because content that lives on one website and one URL is much easier for users to share, interact with, and link to, as opposed to content that lives on separate desktop and mobile sites. For instance, consider a mobile user who shares content from a mobile site with a friend on Facebook. That friend then accesses the content on a desktop, which results in that user viewing a stripped down mobile site. This creates a less than optimal user-experience, and because of the large emphasis that Google is now placing on user-experience as a ranking factor, having a web-based application built with responsive web design, is essential to take into account when thinking about SEO (Search Engine Optimization).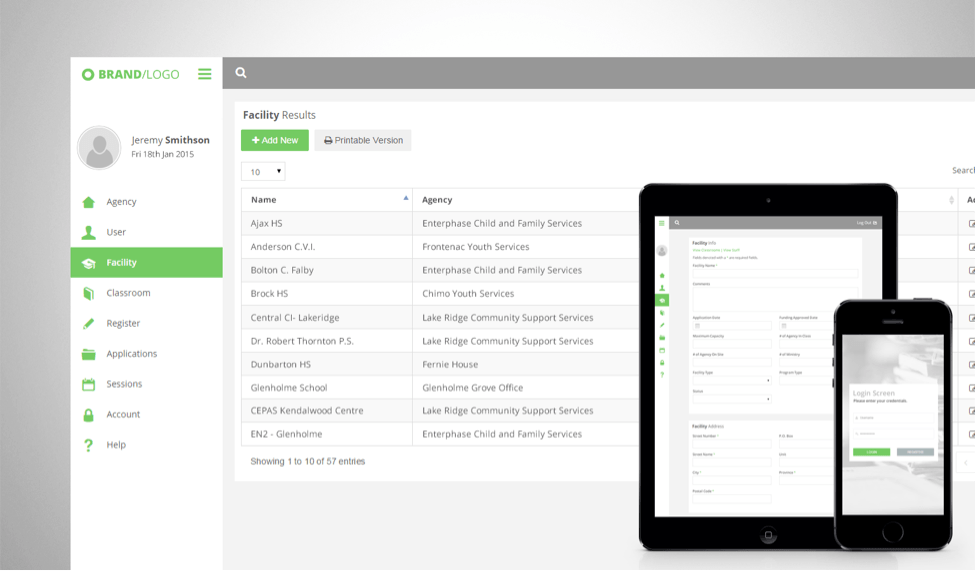 What are the Business Advantages?
Cost-Effective Development Costs
With web-based applications, users access the system via a uniform environment—the web browser. While the user interaction with the application needs to be thoroughly tested on different web browsers, the application itself needs only be developed for a single operating system. There's no need to develop and test it on all possible operating system versions and configurations. This makes development and troubleshooting much easier.
Accessible Anywhere
Unlike traditional applications, web systems are accessible anytime, anywhere, via a PC with an Internet connection, putting the user in charge of where and when they access the application.
Easily Customizable – Ability to Incorporate Modern Design Schemes
The user interface of web-based applications is easier to customize, than a desktop application. This makes it simpler to update the look and feel of the application, along with providing a unique and exciting way to present data to the user.
Easier Sharing of Data Between Different Computer Systems
Using common internet technologies based on industry-wide standards, its possible to achieve a far greater level of data sharing between applications versus traditional isolated desktop systems. It is far easier to get an online shopping application to integrate with a web-based accounting application, than it is to get two traditional isolated desktop systems to talk to each other.
Quick and Easy Installation and Maintenance
With web-based applications, installation and maintenance becomes less complicated. Once a new version or upgrade is installed on the host server, all users can access it immediately. There is no need to upgrade each client PC. Rolling out new software can be accomplished more seamlessly, requiring only that users have up-to-date browsers. As the upgrades are only performed by an experienced professional to a single server, the results are more predictable and reliable.
Security
Most web-based applications are installed on dedicated web servers, which can be monitored by an experienced IT professional. As a result, there is no need to maintain multiple client computers. Secured connections can also be implemented, thus ensuring the protection of your sensitive company data. Since the data is centralized, it is extremely secure and very easy to backup.
Direct Access
Users have direct access to the latest information wherever they are located. This data is always up to date.
Conclusion
Web-based applications are:
Easier to develop
More useful for users
Easier to install, maintain, and keep secure
Easier to grow as your company grows
Can be run on any type of device (desktop, mobile, tablet)
Let's discuss your next web-based application. Contact us directly at 1-800-650-8882 or fill out a contact us form on our website and we'll help you determine how to make your next web app a massive success!
And as always, thanks for reading!
CoreSolutions Software