Baseline CRM. Your Data, Your Way!
No Monthly Fees.
Get the flexibility to take your CRM wherever you want.
For just $499, Baseline CRM gives you a solid Customer Relationship Management System foundation.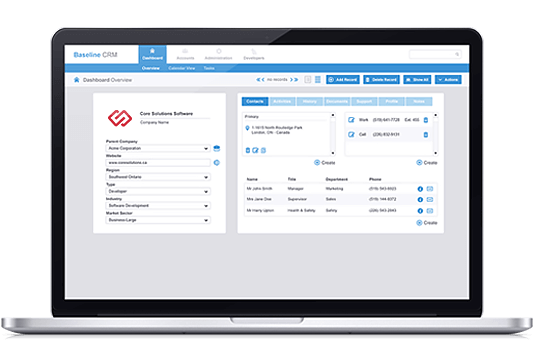 CONTACT US FOR NEEDS ANALYSIS
Get in Touch.
Did we mention that it starts at only $499!
Built in features include:
Lead / Prospect Management
Activity and history tabs to keep you updated on your accounts
A personalized design; Baseline CRM integrates your organizations branding
Data import support available
Simple document uploads and management for your convenience
Access across both Windows, Mac and mobile devices
Access Customer Data Wherever You Are
Baseline CRM has mobile functionality which allows you to have access to your data wherever and whenever you may need it.
Whether it be at a client's location, at the cottage or out on a jobsite, Baseline CRM will be with you every step of the way. Mobile access gives the freedom that you need. The world has gone mobile, maybe it's time your CRM did as well.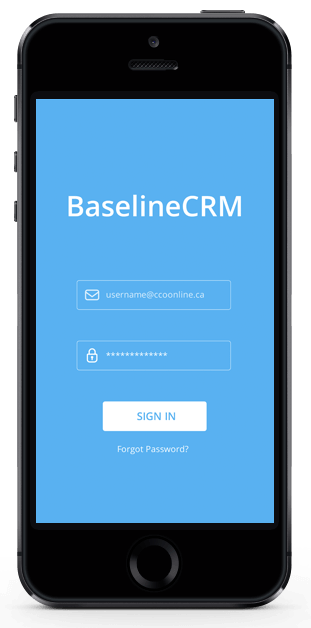 TESTIMONIAL
A few good words from one of our clients.

I have dealt with a number of developers and in retrospect the experience with CoreSolutions has always been very positive in comparison. The other developers seem to have policy in place that is aimed at protecting their stake in the working relationship rather than ensuring a mutually beneficial experience and a positive outcome for the project being worked on. The relationship with CoreSolutions in comparison has been easy, open, and trustworthy.
START BUILDING YOUR CRM TODAY
Contact us for a complimentary needs analysis.