CASL- What it Means to You and How it Might Affect Our Relationship
25th June, 2014
Core Business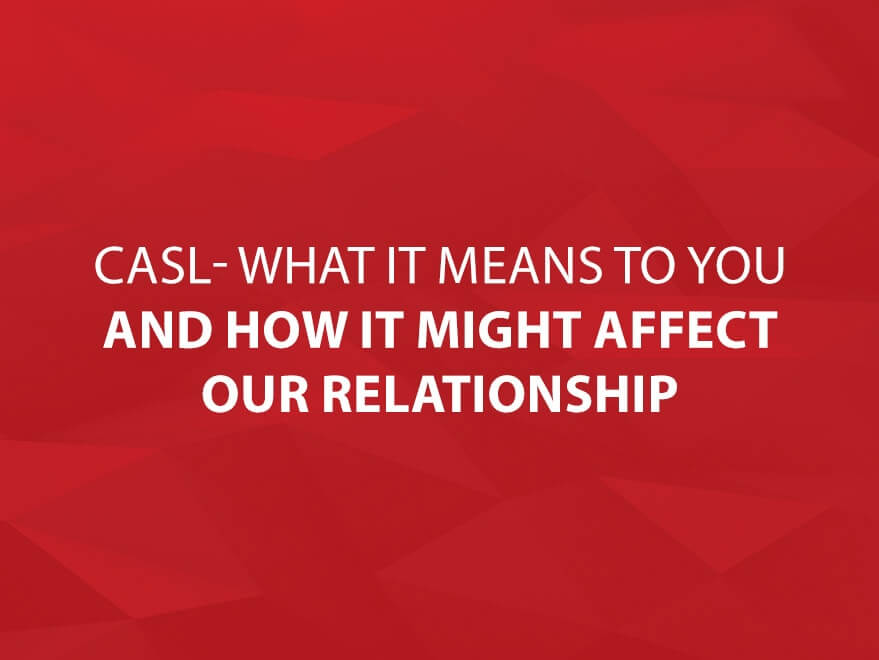 You have probably seen quite a bit of press around Canada's new Anti-Spam Legislation (CASL). Most of the act came into effect on July 1st 2014 and as a result you may be receiving email communication from many of the companies and newsletters that you subscribe to. Here is a brief breakdown of some of the changes coming. Here is a breakdown of some of the changes coming and how they might affect our relationship.
1. CASL is new legislation that effects every organization that sends Commercial Electronic Messages.
2. All Consumer Electronic Messages need to have the Name of sender, Contact Information, and an easy unsubscribe mechanism
3. Express Consent:
The receiver has actively opted in to receive communications
This permission won't auto-expire. The receiver has to manually unsubscribe
The sender must provide the receiver with:

The purpose of requesting consent
Names and details of person(s) requesting consent
Indication that the recipient can unsubscribe at will
4. Implied Consent:
In force when the business has an active business relationship with recipient

Recipient has purchased products/services from business in last 24 months
Recipient has contacted business in last 6 months with product inquiry

Implied consent also applies when the recipient publishes their contact details without stating that they would not like to receive marketing communications.
So that was a very brief overview. If you want to know more about CASL check out the Government of Canada site for some great resources. http://fightspam.gc.ca/eic/site/030.nsf/eng/home
So with all of that out of the way, what does it mean for your relationship with us?
We do our absolute best to make sure that we are offering interesting content in our email newsletter and blogs and as such we rarely receive complaints or unsubscribe requests. Our newsletter base is almost exclusively opt in. We are going to continue to provide you with great content that is relevant to the products you love and we hope that it will keep you informed and interested.
For the most part, our clients and newsletter email contact lists will meet the implied or express consent requirement of CASL. That being said, we still want to be as transparent as possible and as such you may receive communication from us asking you to confirm your continued interest in receiving our communications.
Additionally, going forward you may receive a confirmation of consent type email depending on the way we gained your contact information.
Enjoy our Business Blogs? Then be sure to sign up for our Core Business Newsletter.