CoreSolutions Software Inc. Celebrates 25th Anniversary
1st May, 2014
Core Business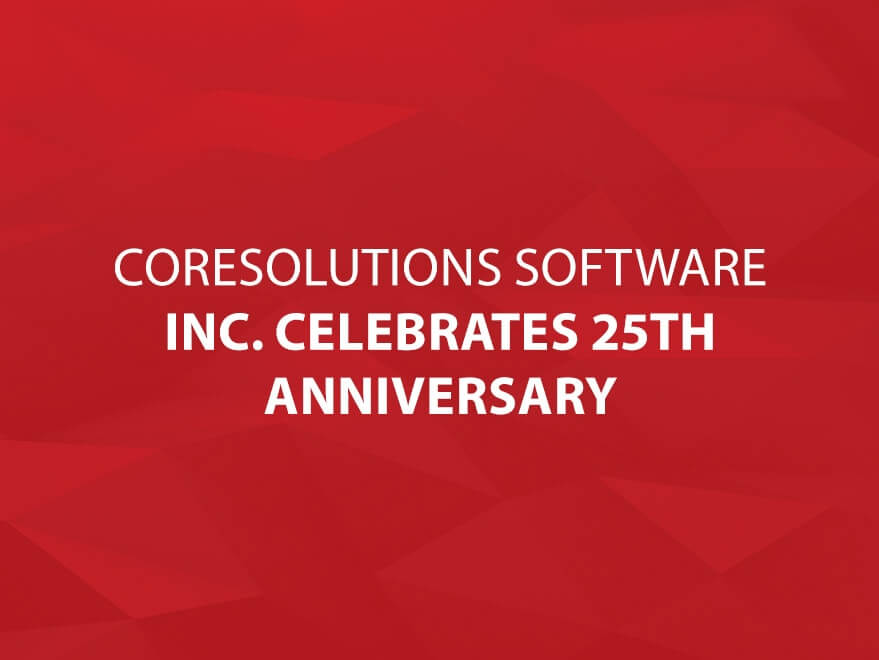 CoreSolutions Software Inc. (www.coresolutions.ca), recognized as a leading software development company in Canada, is pleased to announce that 2014 marks the company's 25th Anniversary. Founded in 1989 in London, Ontario, CoreSolutions Software has evolved into a leading FileMaker® Pro, Web Application, and Database Developer.
"From the beginning, providing extraordinary customer service has been our number one priority," said Barney Lawn, CoreSolutions' CEO. "Our success is based on going beyond the software we develop and helping our clients improve their current processes and solve problems. Bigger doesn't always mean better. This is a significant milestone for any company and we are proud to have been helping companies for twenty five years."
Over the 25 years that CoreSolutions Software Inc. has been in business, there have been many ups and downs and notable accomplishments. By the mid 1990's CoreSolutions had created a very beneficial partnership with FileMaker Inc., a subsidiary of Apple computers, which was the cornerstone of their growth and success.
In the 2000's, CoreSolutions Software Inc. launched PD Place Professional Development Software which made CoreSolutions one of the foremost professional development software companies in Canada. PD Place is favoured by school boards across Ontario and North America because it offers its users the ability to monitor and maintain their staff's professional development as well as easily monitor their training, certifications, and mandatory compliance. There are currently 100 000 active users of the company's PD Place Professional Development Software. The 2000's also saw CoreSolutions win London Ontario's Small Business of the Year award (2005) presented by The London Chamber of Commerce and the FileMaker Inc. Excellence award (2001).
"Another factor that has contributed to our growth is the excellent relationships we enjoy with our partners including FileMaker and various Professional Development Associations. We've been extremely fortunate and I'm very proud of the entrepreneurial culture that exists throughout our organization," said Lawn.
About CoreSolutions CoreSolutions Software Inc. has been providing management system and database development since 1989. With offices in London and Toronto, Ontario, CoreSolutions offers customized Database and web application solutions for its customers. For company information please visit CoreSolutions.ca
Media Contact: Kyle Mayer Marketing Manager Phone: 800.650.8882 Email: coremarketing@coresolutions.ca